Item is in stock
Hurry, Only

0

Left!
Item is out of stock
Item is unavailable
Empower your children to participate and engage in Mass!!!
Bringing your little ones to Mass can sometimes be chaotic and challenging.  It can be hard trying to get your little saints to engage and participate in Mass, we get it!

Our Parts of the Mass Ring is perfect for teaching your pint-sized saints about the Order of the Mass. This pocket-sized guide comes on a ring and breaks the Mass down into 27 parts, explaining what happens in each. It is color-coded based on the four parts of the Mass.
Say 'Amen' to stress-free Mass moments!
⭐️⭐️⭐️⭐️⭐️ "My kids loved the parts of the Mass ring, especially the youngest. She has found Mass "boring" so having the cards is a great way for her to stay engaged and have a bit more sense of what is going on." - Jana
Theologically Sound
All of our products are reviewed by a theologian to ensure they are true to the teachings of the magisterium. You can rest assured knowing you are giving a tool that is full of TRUTH, goodness, and beauty!
The perfect gift!
The Parts of the Mass Ring is the perfect gift for children, grandchildren, godchildren, nieces and nephews. It's a wonderful gift for birthdays, Christmas, First Communion, First Reconciliation, or simply to show your love and support for their faith journey. It's also great for even adults who want to learn more about the Mass or people going through RCIA or interested in learning more about the Catholic faith. Ideal for kids, families, Catholic churches, Catholic schools, religious education classes, homeschooling groups, and Vacation Bible Schools. At an affordable price, this is a great item to stock up on to have on hand when you need a last minute, fun, and UNIQUE gift.
⭐️⭐️⭐️⭐️⭐️ "Such a great idea to keep little ones engaged during Mass! Bought for one grandson...will be buying lots more for other grandchildren! Well made and fun!" - Jill T.
Perfect for Ages 3 and Beyond, Including Lifelong Catholics!
This tool is a great fit for Catholic kids aged 3 and older, covering a wide range of ages. The fun and colorful illustrations will keep the littlest ones entertained, while the helpful explanations on the back of each card will engage older children. And believe it or not, even adults who've been Catholic since birth can discover something new! It's a super engaging resource that's also wonderfully inclusive for children with different learning styles.
⭐️⭐️⭐️⭐️⭐️ "We love the Mass cards! We love anything to help make Mass more engaging for our littles! The more engaged they are means less undesirable behaviors during Mass. A win-win for everyone!! Thank you!" -Larissa
Details:
28 cards

Includes a 2" metal ring to hold them together
All cards are hole-punched to go on the metal ring
2.5" x 4"
Printed on heavy paper and finished with a Glossy UV coating to make them more durable for little hands.
Comes in a custom tuck box
All content reviewed by several priests and theologians!
Empower your children to participate and engage in Mass! 
---
Free shipping on orders over $50
Parts of the Mass Ring
I bought these as gifts for some young families at church, they were very happy to receive them
This is a must have now for our church bag. It helps my 8 yo understand "how much longer" we'll have to be in church for. He clutches it like a life line and enjoys looking at the pictures.
These are wonderful and like that they are compact that my kids can use them in mass.
my kids love this!
Both of my boys (almost 6 and 7) like this more than I was expecting--it's caused a few arguments over "whose turn" it is to have it. They're at an age where they can read, but they also like that they can follow along with the illustrations and can listen to what the congregation is saying. I like that it's something tangible to interact with.
Very fast ship! I have not opened as it is a shower gift. I hope the ring is inside the box!
Reasons to Love Catholic Family Crate
Hassle-free Faith
No prep needed to grow your family's faith
Screen-free Activities
Tablet free, faith-filled entertainment
Always Vibrant & Fun
No boring Catholic resources here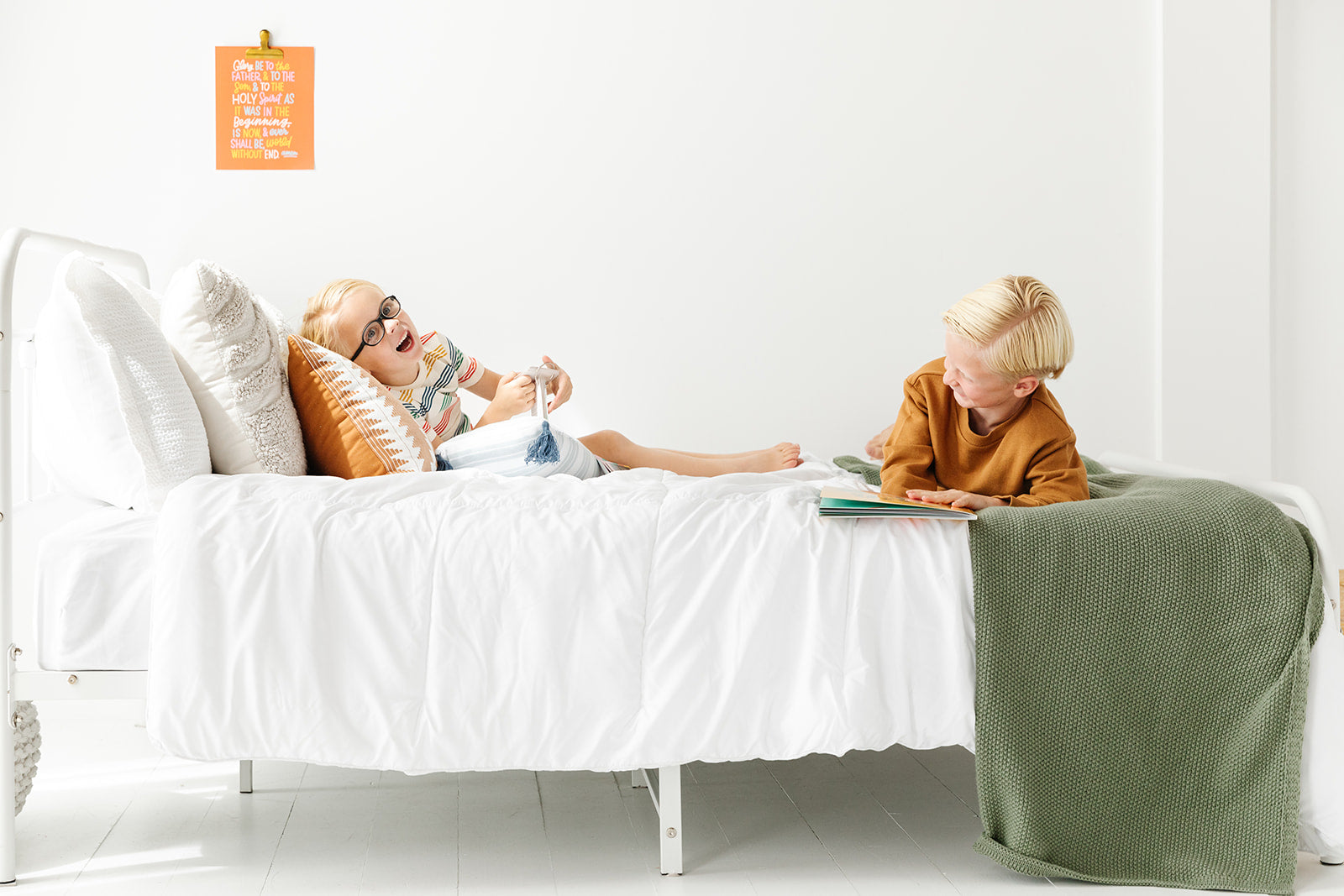 Is building a faith in your home a struggle?
Do you feel like you don't have enough time to grow your family's faith at home? Do you feel overwhelmed at passing on the faith to your little saints? You want to start, but don't know where?
We've been there. We can help!