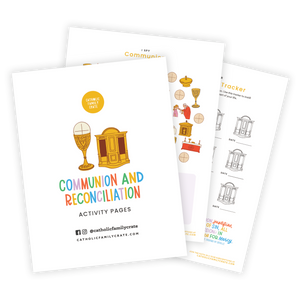 Prepare for and celebrate the sacraments of reconciliation and communion with these free activity pages.
Use these sheets at home or in the classroom as a resource to journey with children as they prepare to receive their first reconciliation and first communion and beyond as they continue to seek the joys of repentance, mercy, forgiveness, and the mysteries of the Eucharist.
What's included: 
16 activity pages 

Coloring sheets 

Answer key
Looking for more sacrament resources? Shop our full collection of Sacrament Resources and the Best Gifts for Kids Receiving their First Reconciliation and First Communion. 
Reconciliation & Communion Activity Pages
Passing on the Faith.
I love the cards to help my grandkids learn the faith , and traditions!
Reconciliation & Communion Activity Pages
Excellent Reconciliation and Communion Activity resources for families
Thank you for providing great activity options for both Reconciliation and Eucharist!